S-26

Liquid Plastic
Long-lasting protection against the elements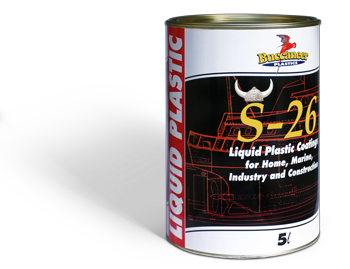 Buccaneer Liquid Plastic Solutions
'Painting' has been defined as "a colouring matter spread onto a surface with brushes, rollers or spray guns". The definition of 'plastics' is very different: plastics "can be readily moulded into any form and are extremely durable".
In short, "Where paints stop, plastics start…" If you require the most durable and rugged coatings to protect your buildings, Buccaneer Liquid Plastics products are definitely for you.
Since 1975, Buccaneer Liquid Plastics has preserved, waterproofed and protected every conceivable type of building and structure, not only throughout Southern Africa and Europe, but also in the extremely harsh environments of Iceland and Canada.
Buccaneer serves the following sectors, in both retail and wholesale markets: marine, industrial, decorative, waterproofing, renovation, remedial and new construction. We are supported by more than 250 distributors and outlets across Southern Africa.
In 1987, we invented the world's first Teflon non-stick water-based emulsion. Between 1991 and 1992 we invented the world's first non-stick eco-friendly anti-fouling paint for ships without using TBTs (Tributyltin) – 10 years before international legislation banned these biocides.
Unlike many conventional paints, Buccaneer Liquid Plastics do not degrade or chalk quickly or easily. They form a tough, virtually indestructible mould over whatever they are applied to, and are readily overcoatable, thereby providing maximum protection and containing potential delamination of surfaces that could become environmental hazards.
We continuously seek better and more environmental methods to invent, develop and utilise technology, utilising raw materials that are friendly to users and the environment. Buccaneer has not used and will not use lead, chlorine, Tributyltin or organo tins or any substances in our products.
Buccaneer is everything specialised coatings and liquid plastic products should be – ground-breaking, specific and extraordinarily durable, even in the harshest of conditions.
In short, Buccaneer has been a world leader in specialised coatings and liquid plastic products since 1975.
Scroll gallery and click images to enlarge