S-26

Liquid Plastic Solutions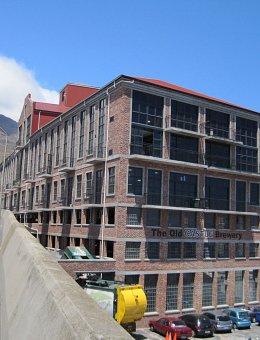 Walls
S-26 Brick and Stone Seal Clear
S-26 Brick and Stone Seal is a clear, non-yellowing plastic coating that can be applied to vertical and horizontal surfaces such as facebrick walls or concrete floors. It is 100% waterproof and can tolerate heavy traffic.
It is a seamless coating and can be taken up from floors to walls.
Not designed for glazed tiles or non-porous surfaces.
Spread rate:
1litre = ±6m², depending on Substrate
Outstanding characteristics:
Single Pack
Very Quick drying
Seamless Liquid Plastic Coating
Waterproof
Non yellowing
Total resistance to acid rain and pollution
Resistance to fungus and mildew
Flexible
Can be applied on previously painted walls for a beautiful finish and durability against fungi
Suitable for:
Face brick
Concrete
Stone
Terrazzo and plaster waterproof coating
Pollution control for tunnels, commercial buildings, etc
Bridges - to prevent spalling and ingress of moisture into concrete
Brick
Application:
Specifications for flat roofs:
See our Preliminary and General Notes
Allow plenty of ventilation in confined areas and spaces and never allow ignition, smoking and naked flame when application is taken place.
Always apply 2 coats of S-26 Brick and Stone Seal.
Never apply to wet or damp surface.
Ensure that a substratum is below 3% moister content.
Always ensure that no rising damp can occur on flat surfaces.
An industrial fan will increase air circulation and will assist in the product drying and curing.
NEVER DILUTE THE PRODUCT!
NEVER APPLY ON GLAZED TILES OR NON-POROUS SURFACES!
Application Tools:
Brush
Roller
Spray (conventional or airless)
Downloads:
Scroll gallery and click images to enlarge