S-26

Liquid Plastic Solutions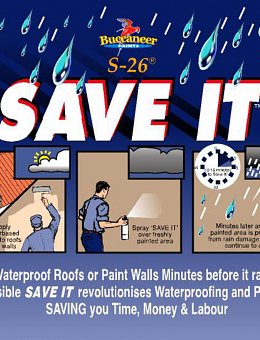 Specialised Products
S-26 SAVE IT
S-26 SAVE IT is a unique protective solvent designed to be applied over a high-quality water-based paint or waterproof coating. It provides a protective cover to a freshly painted surface.
An invisible curing agent, it will allow a painted surface to dry without being damaged as a result of dew or sudden rain.
Outstanding characteristics:
Protection of completed work prior to rain.
Suitable for:
Application:
See our Preliminary and General Notes
Apply S-26

SAVE

IT over freshly painted surfaces at least 15 minutes before contact with possible rain or moisture.
Open the spray nozzle slightly to obtain a fine mist spray.
Apply evenly over the entire surface. Do not leave areas exposed, as these areas will not be protected.
NEVER DILUTE THE PRODUCT!
Application Tools:
Downloads: