S-26 Single Pack Self Etch Metal Primer
S-26

Liquid Plastic Solutions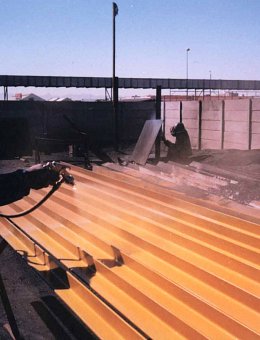 Marine & Industrial
S-26 Single Pack Self Etch Metal Primer
S-26 Single Pack Self Etch Metal Primer is a general-purpose metal primer. It contains both zinc phosphate and zinc chromate to combat the worst rust conditions among ferrous metals.
It is not designed for aluminium or use below the waterline.
Spread rate:
1 litre = ± 6m²
Outstanding characteristics:
Single pack
Dries quickly
Resistant to sunlight
Combats rust
UV-resistant: can be left without an overcoat for four to six weeks.
Suitable for:
Roofs - metal
Window frames - metal
Steel fittings
Application:
See our Preliminary and General Notes
Degrease and remove salt from steelwork.
Remove as much rust as possible.
Apply one coat of S-26 Single Pack Self Etch Metal Primer.
Overcoat only after six hours at >20°C to allow for solvent evaporation.
NEVER DILUTE THE PRODUCT!
Application tools:
Roller
Brush
Spray method
Downloads: